WELCOME TO THE MÜNCHNER KNABENCHOR
WELCOME TO THE MUNICH BOYS' CHOIR
The MÜNCHNER KNABENCHOR is a top-class boys' choir based in the Bavarian capital. The name stands for the joy of music within the framework of professional vocal training at the highest level, which leads our singers to important concert and opera houses in Germany and abroad.
With the founding of the MÜNCHNER KNABENCHOR in September 2014, a long-cherished wish came true for many friends of Munich's musical culture and representatives of the city of Munich: an "own" top-class boys' choir that promotes the Bavarian capital's cultural offerings worldwide with its name.
When the idea of founding a new boys' choir took shape in the summer of 2014, a group of young, talented singers with years of singing experience spontaneously became enthusiastic about the musical adventure of a new start in singing.
This loyalty and courage of the founding boys guaranteed the choir a high artistic level from the very first hour.
And so the MÜNCHNER KNABENCHOR owes an extraordinary start to the youthful determination, the experience and the good contacts of many years of the new choir management to renowned concert and opera houses, renowned artists and influential agencies.
From zero to three hundred in 5 years
Since its founding in September 2014, the choir and its soloists have completed more than 300 performances, some at major concert halls and opera houses in Germany and abroad. In 2019 alone, the year before the pandemic broke out, the choir traveled to eight countries during its 75 engagements.
In addition to numerous choral and solo performances in Germany, there were also a wide variety of opera engagements abroad, with more than 20 performances in Italy alone at the Teatro la Fenice in Venice and the Florence Opera. Munich Boys' Choir has also given concert performances outside Europe in Beijing, Shanghai, Guangzhou, Changsha and Seoul. The choir has traveled several times to Austria and Switzerland, to France and Italy, and to several Spanish cities. The MÜNCHNER KNABENCHOR was a guest in Russia and Canada, and on various concert tours through Korea and China it presented its wide-ranging repertoire to more than 10,000 concertgoers. Two performances on the Chinese television show "Chinese Bridge" were each watched by more than 20 million viewers on their screens.
In March 2019, the choir and one of its soloists made their debut as the first boys' choir in Hamburg's Elbphilharmonie as part of a contemporary concertante opera.
Musical highlights for 2020 in the MÜNCHNER KNABENCHOR's concert calendar included participation in a choral festival in Guangdong Province, choral concerts in Salzburg, Venice and Paris, and opera engagements at major stages in Germany and abroad. Only a production of The Magic Flute at the Royal Opera House Muscat in Oman in January as well as the concert tour to the USA in February could still take place, all other performances fell victim to Corona and the following lockdowns or were postponed to the years 2021 and 2022, in which now again exciting performances and trips lure, among others to the Chinese island Hainan, to Liepaja/Latvia and to the Paris Philharmonic as well as to another highlight of the concert and male choir, a Pipe Organ Concert on the Arabian Peninsula.
With perseverance and high standards, the MÜNCHNER KNABENCHOR continues to pursue its ambitious goal of using the name of the Bavarian capital to enrich the musical cultural offerings on a national and international level as a very young, but already widely known world-class choir.
ARTISTIC DIRECTOR
Ralf Ludewig is responsible as Artistic Director of the MÜNCHNER KNABENCHOR. He was Artistic Director and Managing Director of the Tölzer Knabenchor for many years before founding his own choir in September 2014.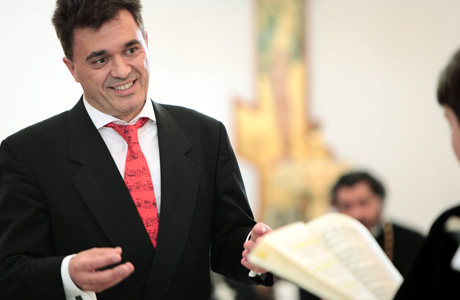 Ralf Ludewig – Art Director
CAREER AS ARTIST AND PROFESSIONAL TRAINING
1974-1981
Vocal training with the Tölzer Knabenchor
1979-1981
Performances as treble soloist under Herbert v. Karajan, Claudio Abbado and Nikolaus Harnoncourt et al. in many renowned opera and concert halls
1989-1994
Musical studies in Osnabrück and Amsterdam, including voice, conductiong and music pedagogy
Development of the Bach Ensemble for Early Music in Holland
Bass soloist for oratorios and song recitals
Winner of various song contests
1994-1997
Training as a certified speech therapist, focus on functional and neurological voice malfunctions, research in the voice as an instrument
1997-2002
Owner of two speech therapy practices
1996-2002
Vocal coach and choirmaster with several music schools in the North of Germany
Choirmaster with various youth and adult choirs
2002-2009
Vocal coach and choirmaster with the Tölzer Knabenchor
2009-2014
Artistic Director and Managing Director of the Tölzer Knabenchor
2013
Winner of the French Diapason d'Or for Benjamin Britten's War Requiem co-conducted with Mariss Jansons
REFERENCES AS MUSICAL DIRECTOR OF THE TÖLZER KNABENCHOR AND OTHER MUSICAL ASSOCIATIONS
Early Music/Classical Works
J. Brahms: Ein deutsches Requiem
J.S. Bach: Sechs Motetten
G.B. Pergolesi: Stabat Mater
W.A. Mozart: Requiem
W.A. Mozart: Krönungsmesse
G. Mahler: Sinfonie der Tausend
B. Britten: War Requiem
W.A. Mozart: Requiem, szenisches Konzert
G.F. Händel: Messias
R. Schumann: Faust-Szenen
Mozart-, Bachabende mit Lesung
G. F. Händel: Israel in Egypt
J.S. Bach: Weihnachtsoratorium
J.S. Bach: Matthäus-, Johannespassion
O. Benevoli: Missa Tira Corda – Römische Mehrchörigkeit
Tours and Festivals
Tour through Germany, Austria, Italy and Switzerland, Israel and the US
South Korea Tour 2008
Asia Tour Japan/China August 2013
Founder of the Boys Choir Festival in Bad Tölz April 2014
Valery Gergiev Moskau Easter Festival May 2014
Coaching soloists for opera houses in
W.A. Mozart – Die Zauberflöte (Magic Flute)
München Nationaltheater
München Gärtnerplatztheater
München Prinzregententheater
Berlin Deutsche Oper
Berlin Komische Oper
Hamburg Staatsoper
Bremen Opernhaus
Oldenburg Staatstheater
Herrenchiemsee Festspiele
Salzburger Festspiele
Valencia Opernhaus
R. Wagner – Tannhäuser
München Nationaltheater
Paris Konzerthaus
R. Wagner – Lohengrin
München Nationaltheater
Working with renowned conductors
Claudio Abbado
Enoch zu Guttenberg
Nikolaus Harnoncourt
Mariss Jansons
James Levine
Lorin Maazel
Zubin Metha
Kent Nagano
Simon Rattle
Jeffrey Tate
Christian Thielemann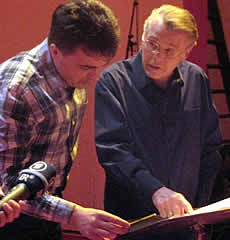 Ralf Ludewig and Mariss Jansons
INDIVIDUAL SUPPORT FOR YOUNG TALENT
Once parents decide for a musical education with the MÜNCHNER KNABENCHOR, they entrust their children to our caring hands. Their musical education becomes our responsibility. In training the young singers, we also contribute to the positive development of the boys' own personality. This is a task that we take very seriously. Between the ages of 6 and 14 the boys will learn and develop many musical skills, but social competency will also be expanded and refined for their future careers and adult lives. Missed opportunities at these impressionable ages can hardly be overcome later, while negative influences at these stages are very difficult to counterinfluence.
Besides our professional vocal coaching, we place a special emphasis in establishing a harmonious atmosphere within the choral community. We are always engaged in maintaining a fair and friendly spirit of help and cooperation in order to attain our musical ends and goals. For us, these principles are among the most important aspects of the training of our young talents.
We put much personal energy into making group activities happen, ones which can be purely recreational, like trips to museums, the cinema, zoo or football stadium, and we combine exciting rehearsal retreats that may last several days, with musical coaching for ambitious projects or major concert cycles. These activities, which take place in addition to regular choir and vocal coaching sessions on our premises, augment each boy's self-reliance, self-confidence and his ability to function as part of a team. The boys are motivated and awarded for discipline, great perseverance and exceptional musical achievements.
After the voice has broken during puberty, we continue to support the youngsters. By giving them a meaningful task, they gain security, social footing and most important, acknowledgement and success in society. Active participation in the choir for young men, and later for men, keeps the adolescent's enthusiasm for classical music and helps orient them in their new lives by continuing the rhythm and stability of choir practice. In addition to the important training of the new voice, belonging in and being part of the choir's structure will further stabilize social competences and lead to lasting friendships –  reaching far beyond simply performing together.
Our educational concept is based on a system of training at several levels, consideration being given  both to age and vocal capabilities to be fostered. Boys will have both a weekly solo lesson to promote their individual voices and enhance regular choir practice sessions. At the beginning, such choir practice sessions will take place once a week and then twice a week for the remainder of their life in the choir.
REGISTRATION
We would like to encourage all boys who enjoy singing in a friendly atmosphere, and wish to experience life in a choir with a great team spirit and a sense of fun, to contact us at the MÜNCHNER KNABENCHOR. We would like to give you a chance to see our work, get to hear the wonderful singers, and meet the highly motivated team who puts the show on the road. Our choir boys look forward to meeting new team mates. Young beginners from six to nine years of age are just as welcome as musically experienced and gifted boys who are nine or older. Please fill out the form on this page or feel free to give us a call at the office.
MÜNCHNER KNABENCHOR CHARITABLE FOUNDATION
From its very inception, the MÜNCHNER KNABENCHOR was indebted to and developed thanks to many active helpers and financial supporters. We are grateful for any support that contributes to and makes possible our ambitious aesthetic goals. A membership in our foundation starts at € 5 per month. We are also grateful for one-off donations.
Your financial help goes to the support of musical and educational projects which cannot be supported by our tuition fees alone. There are sheet music and choir uniforms to be bought, rehearsal retreats need to be financed and there will be CD productions as well as special concerts.
One of the MÜNCHNER KNABENCHOR's most important goals is to support young musical talents. With your donation, we are able to subsidize the musical education of boys, as well as vocal coaching for young men whose voices have changed during and after puberty.
The responsible stewardship of your much-appreciated donations is very important for us. Your donations will be exclusively allocated for the specific purpose of planning, organizing and creating musical highlights. Thank you very much for both your support and trust.
Faithfully,
MÜNCHNER KNABENCHOR FOUNDATION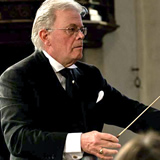 "Finally the famous
City of Munich, with its
impressive music
history, has its
own boys' choir,
one which is worthy to
represent internationally
the name
of the city.
It will be a pleasure
to continue my
previous
cooperation with
Artistic Director
Ralf Ludewig
in the future,
and I will certainly engage
the new ensemble
for my projects."
Enoch zu Guttenberg
Conductor
Patron of the
MÜNCHNER KNABENCHOR